STORE Capital (NYSE:STOR) is an all-American real estate investment trust (REIT) that owns a variety of service-oriented retail locations. They have $11.2 billion in real estate assets across 2,965 locations across the United States. Among their customers (tenants) count likes from Burger King, Fleet Farm, Camping World and more. Based on my research, this is the highest-yielding dividend stock in Warren Buffett's (Berkshire Hathaway) portfolio (BRK.A) since it has a yield of 5.8%. The REIT also has an exceptional occupancy rate of 99.5% with a weighted average lease term of 13.3 years, which is above the industry average.
The stock price fell off a cliff during the 2020 pandemic crash as its customers' retail locations shut down. However, the stock quickly rebounded, surging ~147% from the lows. Since August 2021, the stock price has fallen a whopping 27%.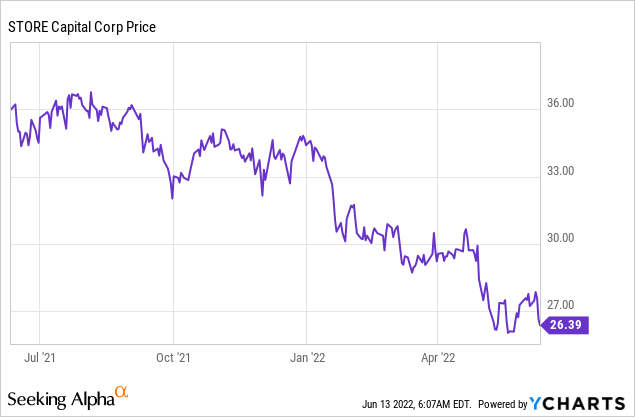 The stock is now undervalued relative to historical valuation multiples and the majority of its peers, so this appears to be a great stock for income investors. At the same time, the company beat earnings expectations for the first quarter of 2022. Let's dive into the business model, financials, and valuation of this juicy stock with a 5.8% dividend yield.
Solid business model
STORE Capital is a real estate investment trust (REIT) specializing in the purchase and subsequent leasing of real estate to service, manufacturing and service-oriented retail industries. Their acquisition pipeline totals $13.2 billion in property value leased to 573 clients across multiple industries including: manufacturing (24% of value) to RV/car dealerships (7%) and even restaurants (7th… %). The nice thing about this REIT is that it's extremely diversified across industries and customers.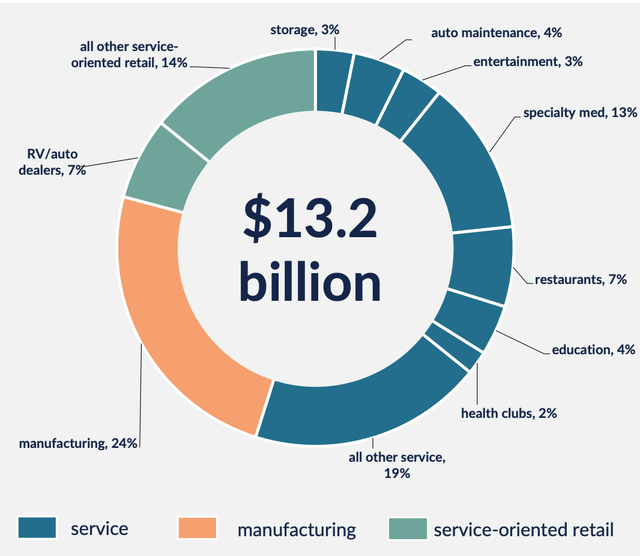 The majority of STORE Capital's top 10 tenants are less prone to online disruption, for example Spring Education Group and Cadence Education are private preschools. Although online education is becoming increasingly popular for university-level education, a preschooler is unlikely to have the ability or desire to join a Zoom call.
Other tenants are US LBM, one of the largest builders' merchants in the United States. While Ashley Homestore and At Home, which specialize in furniture, these stores entice people to head to the physical store. Then we have Camping World and Bass Pro Fishing Shops which are self explanatory. The only truly "risky" tenant I see in the list below is the AMC Movie Theater, which I'll discuss in more detail in the "Risks" section.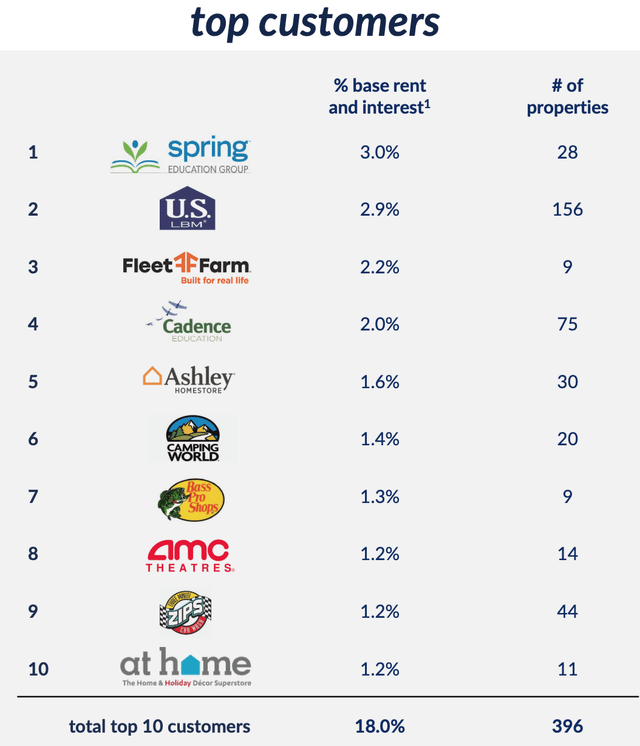 The REIT's top 10 clients account for just 18% of their base rent plus interest. This is less than other competitors in the REIT industry, for example Four Corners Property Trust (FCPT) has a staggering 79.3% of rents from the top 10 tenants, which means greater risk for investors.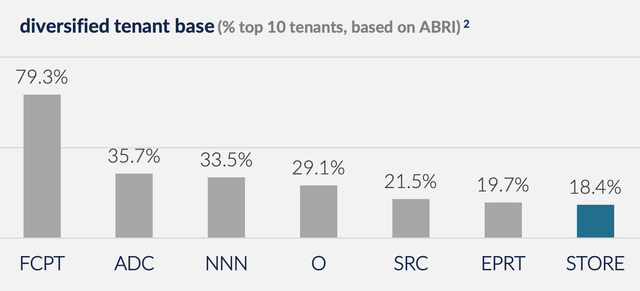 STORE Capital is also well diversified geographically across most of the US, with a slight focus on the East Coast, South and Midwest regions.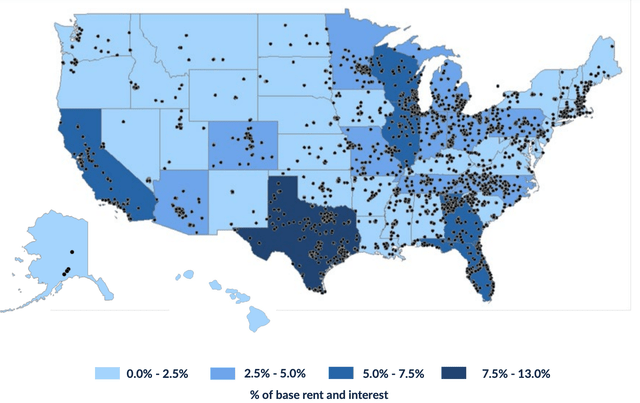 They have an exceptional occupancy rate of 99.5% and a weighted average lease term of 13.3 years, which is above the industry average. Only 4.9% of their leases are expected to expire within the next 5 years, which is significantly lower than its competitors.
STORE stands for Single Tenant Operational Real Estate. Your tenants sign "triple net leases," meaning the tenant is responsible for building maintenance and all bills. That's great, as it means the company isn't likely to incur any unforeseen costs, thus offering investors less risk.
This REIT operates an acquisition growth strategy that has accelerated in recent years. They made $513 million in gross acquisition volume in the first quarter of 2022 alone, while divesting (selling) $56 million in locations that didn't align with their strategy. STORE Capital aims to invest in "profit center" properties, which basically means that the facilities are a primary part of the company's profitability, like you see at a Burger King or a school. Their direct customer relationships account for approximately 80% of STORE's acquisitions, showing that customers see value in them as landlords.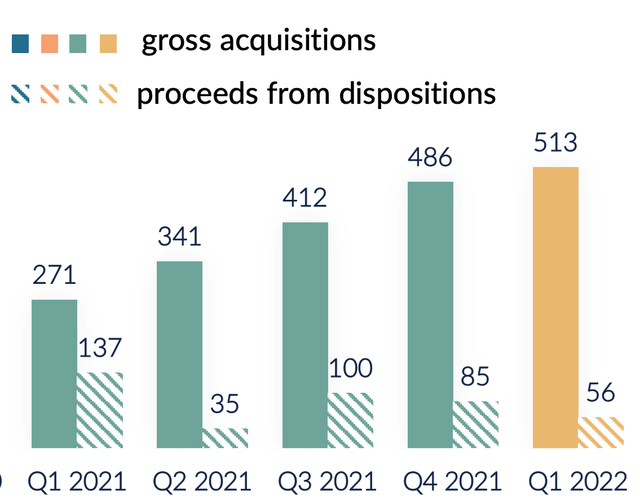 Growing finances
As of full-year 2021, STORE Capital had revenue of $783 million, with the majority of that coming directly from leases, a 12% increase year-over-year. While total spend was $564 million, it grew at a similar rate of 11% year over year. For the first quarter of 2022, STORE Capital beat Wall Street expectations with adjusted funds from operations [FFO] per share of $0.57 versus $0.52 average analyst estimate, up slightly from $0.56 in Q4 2021 and significantly higher than $0.47 in Q1 2021.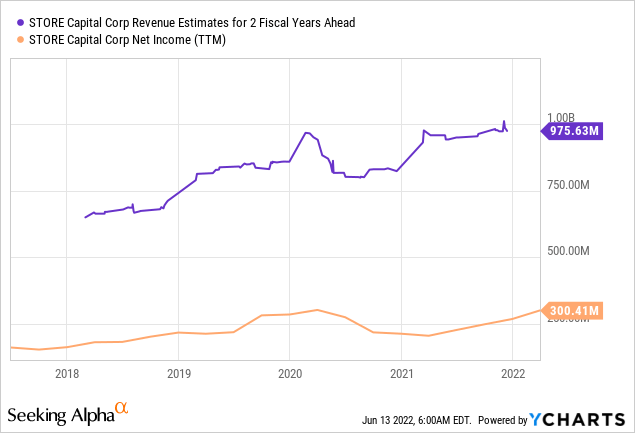 Total revenue for the first quarter was $222.1 million, beating consensus estimates of $212.1 million and higher than the $209.2 million generated in the prior quarter. The company has raised its guidance for the remainder of 2022, projecting adjusted FFO per share of $2.20 to $2.23 versus the previous range of $2.18 to $2.22.
According to CEO Mary Fedewa:
"As we entered 2022, we leveraged the momentum we built in 2021 and completed $513 million of diverse and granular investments in profit center real estate, which was a first-quarter record for us."
They sold 11 properties in the first quarter, giving them a net profit of $6.1 million. The company operates at a very high gross margin of 97% and an operating margin of 52%.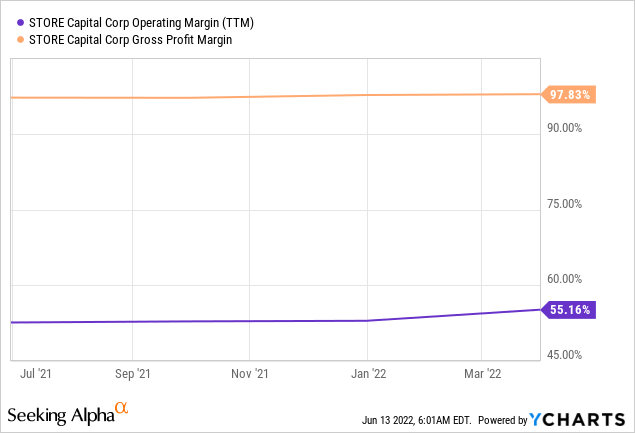 Its balance sheet for Q122 shows $9.2 billion in real estate investments and $39.3 million in cash, down from 2020's $166 million. However, a low cash position makes sense , since REITs are required by law to pay out at least 90% of their taxable income as dividends to shareholders each year.
In terms of debt, they have $1.7 billion in unsecured debt and $2.4 billion in non-recourse debt. The company operates with a fixed cost recovery ratio (FCCR) of 4X. This is very positive as the FCCR is a measure of a company's ability to cover its fixed costs such as debt payments, interest expense and equipment leasing costs.
They currently pay a monster dividend of 5.84%, which is an A grade according to Seeking Alpha. They have also achieved an A- for dividend consistency and a B- for dividend after more than 7 years of growth.

fair rating
The price to inputs (P/FFO) ratio is 12, cheaper than the industry median of 16.73, while the adjusted price to inputs (P/AFFO) is 12.7, which is also below the industry median of 15.13.

At the time of writing, the Seeking Alpha Valuation Grade is also A- for STORE Capital.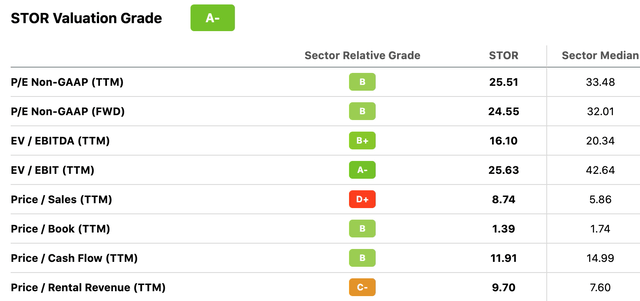 risks
Insecurity of stone and mortar
The future of brick-and-mortar retail locations has been uncertain for many years and this has been accelerated by the 2020 lockdown. E-commerce has a 20.4% penetration rate according to Digital Commerce 360 ​​and the industry grew 9.2% in Q4 21. Therefore, many brick-and-mortar retail locations are being disrupted by online businesses. STORE Capital seeks to mitigate many of these industry risks by focusing on manufacturing companies (24% of rental value) and "service-oriented" companies. Their biggest client is Spring Education Group, a chain of private preschools that, even with Zoom classes, are unlikely to be entirely disrupted by online technology. However, AMC is a top 10 customer that has had many problems in the past due to declining box office admissions. This stock has historically been heavily short and the target of a very public short squeeze. The good news is that this chain accounts for just 1.2% of its rental income.
High inflation
The US annual inflation rate unexpectedly accelerated to 8.6% in May 2022, after a brief decline to 8.3% in April. Inflation increases input costs for businesses such as materials and pushes the consumer through higher food and electricity costs. STORE Capital's customers/tenants and its brick-and-mortar retail locations have a higher cost structure than online competitors, making them more vulnerable to supply chain issues and inflation.
Low industry growth
STORE Capital has a large segment of customers who are unlikely to be bothered by e-commerce growth. However, your select customers also don't really benefit from new industry growth trends like you would see with a data center REIT (see my other posts).
Final Thoughts
STORE Capital is a premier REIT that offers investors access to a variety of retail and manufacturing service locations. They pay a healthy dividend of 5.8%, which is expected to remain stable and even grow. The stock is the second-cheapest in the industry and on an EV-to-EBITDA multiple basis. The only major risks appear to be headwinds from online shopping and grocery deliveries, which can cause real estate to fall in value over the long term. But other than that, this stock looks like a great stock for long-term income investors.