Brotherly love real estate logo
Jon profile picture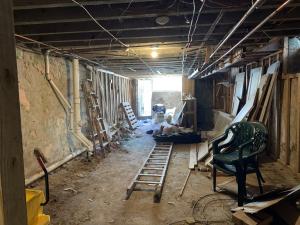 House flip in PA
Brotherly Love Real Estate, Philadelphia's leading real estate company, is expanding to San Diego, California with hopes of buying and renovating homes on the West Coast.
Philadelphia is a tough real estate market. We've earned our stripes by buying houses all over Pennsylvania. Nonetheless, Jon and I are ready to put a dent in the San Diego real estate market. "
– Alex Capozzolo
SAN DIEGO, CA, UNITED STATES, June 23, 2022 /EINPresswire.com/ — From the city of brotherly love, Philadelphia's #1 real estate company is expanding into the western United States. Co-founders Alex and Jon have known each other since they were five. Brotherly Love Real Estate is a real estate company that buys homes throughout Pennsylvania. These brothers have their roots in buying small houses and vacant lots in Philly. "Our market changes every day. By the mid-2010s, homebuyers could find homes on the market for less than $25,000 that didn't require many renovations. Jon and I started Brotherly Love with the goal of buying homes and helping the community grow. After our success in Pennsylvania, we knew it was time to swim with the bigger fish in San Diego, California."
After launching, Brotherly Love Real Estate has acquired a number of rental properties and vacant lots. Over the past 3 years, this real estate company has grown to become the #1 homebuyer in Philadelphia. They're also closing the gap in the Pittsburgh market as they expand there. This duo of real estate professionals continue to serve homeowners across Pennsylvania to help them navigate difficult challenges related to their real estate. Her goal is to bring the same approach to San Diego, California.
Is there something that makes these homebuyers so special? Brotherly Love uses years of real estate experience to buy homes in under 21 days. For homeowners who have bought or sold a property in Pennsylvania, this isn't always a "quick" process. Alex and Jon use their real estate network to navigate complicated real estate situations and overcome hurdles during the closing process. Real estate sales usually slow down during the title process. Larger delays can result from bugs in the title report that seem impossible to fix. This real estate company works closely with title companies, lenders, real estate attorneys and city-level workers to expedite the process of selling a property. It's not uncommon for Jon to visit various city offices to help move things forward and connect the dots. The fast service they offer homeowners couldn't be more seamless.
Alex and Jon currently have their sights set on San Diego, California. For those who have been wondering how to sell my home in San Diego fast, this real estate company can help. The experience Brotherly Love Real Estate brings from their time buying homes in Pennsylvania will have an impact on communities in San Diego. California will likely challenge this real estate team with higher construction and utility costs. "We are aware of the hurdles that lie ahead in the San Diego real estate market. Nonetheless, Jon and I are very much looking forward to this next journey for our company."
The actual process of selling a property is becoming faster and faster as technology keeps improving. Brotherly Love Real Estate leverages their expertise in quick deals by using technology throughout the process. California real estate values ​​are beginning to fall or fall slightly in certain markets. This could mean turbulent times for this adventurous real estate duo. Inventory has been on the market in San Diego for an extended period of time.
Alex Capozzolo
Brotherly love real estate
+ +1 2153269208
email us here
Visit us on social media:
Facebook
Twitter
LinkedIn
Professional Home Buyer – Brotherly Love Real Estate